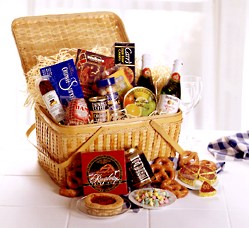 Anyone's who's ever set out a table cloth on a grassy hillside will appreciate this basket of picnic delights. It's an extraordinary collection featuring summer sausage, ham, cheeses, crackers, pretzels, macadamia nuts, fruit bonbons, mints, shortbread cookies, raspberry linzerr torte, sparkling cider for two and coffee. All ready to go, in a fun picnic basket.
Size may vary.
All items featured on this web site represent the types of arrangements we offer and may vary depending upon availability in certain regions.

Available year-round
Delivery to United States and Canada.
ITEM - BSK-07
US $119.99 - Shown

US $149.99

US $189.99
Take advantage of the reduced service charge when you order online!
Add US $6.99 service charge plus local taxes.