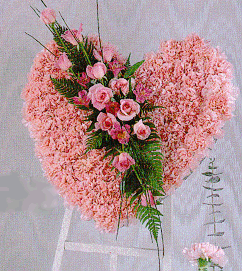 Traditional all Pink Carnations Heart with Pink Roses. Other Combinations - Red Carnations and White Roses, White Carnations with Red Roses or White Carnations with Yellow Roses.
This is a standing heart arrangement. Approx. 30H x 30W.
All items featured on this web site represent the types of arrangements we offer and may vary depending upon availability in certain regions.

Available year-round
Delivery to United States and Canada.
ITEM - HEA-01
US $229.99 - Shown

Take advantage of the reduced service charge when you order online!
Add US $6.99 service charge plus local taxes.