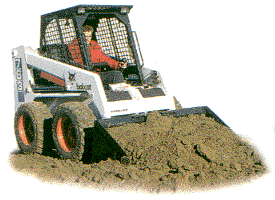 ITEM - LAN - 07
Bongiorno's Contracting is pleased to offer its services in grading, leveling and scarifing in close quarters. Breaking up lumpy soil and pick up rocks as small as 3/4 inch is no task for our loader. We use it for ground preparation, for seeding, sodding and lawn leveling - one pass coverage.
This is a photo of our versatile landscaping tool. We are using it to grade and existing site. Removing overgrown shrubs and plants is a uncomplicated task for this machine.
We own our equipment and we meet our deadlines.  We don't rely on contractors or rent or borrow equipment from other companies.  This is a representative sample of one of our projects.

EXCAVATION
Separating rocks and debris, grade, level, fill - even tear out old sod. Produces perfect bed for seeding or sodding. Pulverizes dirt clods while keeping rocks and debris ahead of roller action. End plates can be attached to simulate box blade. 72-inch width covers wheel tracks when traveling in reverse. This is a favorite landscaper attachment. We use it for breaking up clumps and mixing compost or other materials into existing soil.
Our Bobcat Loader is a versatile landscape machine, The triple-duty York Rake rips up soil with scarifier teeth, blades down high spots, fills holes, and rakes the surface to remove big rocks and debris.
Take advantage of this 10 % discount when you order online!